Study with Emily Ondracek-Peterson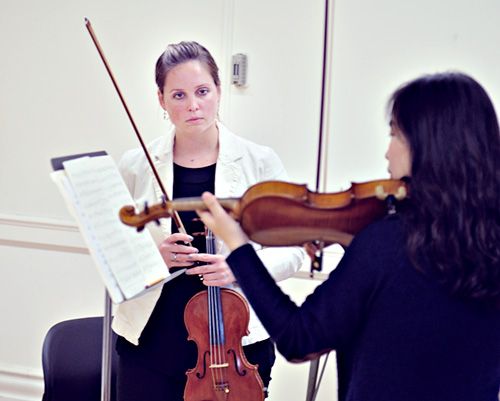 Emily is unique amongst teachers, as she incorporates her extensive background of chamber music and solo performances, academic research into practice and teaching methods, and psychological studies to best relate to students and to extract maximum performance and achievement.
Emily teaches violinists and chamber ensembles in private lessons and masterclasses. She is on faculty at Teachers College, Columbia University, and maintains private teaching studios in New York City and Greenwich, Connecticut.  Additionally, Emily instituted and runs the violin program at Resurrection Episcopal Day School. Her students have studied at leading conservatories and schools including Juilliard, Harvard, Yale, and Columbia, won professional orchestral auditions, and been concertmasters in youth symphonies.
In addition to teaching and coaching college-aged pre-professional musicians, Emily has a fascination with teaching young students. She uses the Suzuki method that she herself learned when beginning violin studies. Emily is a registered Suzuki instructor and in the summer, she teaches at the Colorado Suzuki Institute at Beaver Creek.
Recent research has focused on the correlation between the quantity of time spent practicing and the development of expertise. Investigations into adult practicing methods have illustrated significant correlations between the amount of time spent practicing and the degree of musical skill; however, the investigation into children's practice time does not reveal any such correlation."

EOP Article, Mini Case Study: Effect Practice Study
Emily is an advocate for the use of technology for learning; she uses common devices such as smart phones to aid in her teaching and instructs her students to make use of these tools at home. She believes in the effectiveness of distance learning, and uses internet applications to teach students as far away as New Mexico.
Contact Emily to be added to her waiting list of students or to inquire about her availability to offer a masterclass to your students.